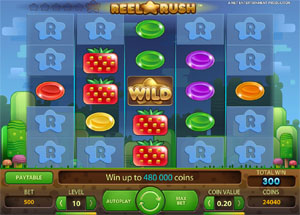 The Reel Rush video slot is a NetEnt production, and a very enjoyable casino type game. This game is designed to run on computers –both Windows as Apple–, but can also be played on your mobile touch devices such as iPad, iPhone, and Android smart phones. This review will be your ultimate guide to the Reel Rush video slot machine from NetEnt.
Quick Overview the Reel Rush slot
When you first load up Reel Rush video slot, one of the first things you may notice is that it's artwork, sound, and general appearance are inspired by the Super Mario Brothers series. After just a few spins, you can tell how it pays homage in a great way. Reel Rush has a theoretic payout of 97.0% and is built upon a structure of 5 seperate reels and rows. At the minimum, you have 45 ways to win, or winways. However, with a combination of unique features and a bit of luck, you could potentially raise the bar and have 3,125 ways to win! Reel Rush video slot is a play for free casino game, but all players have the option to also play using real money.
Reel Rush Payouts & Values
As mentioned earlier, the theoretic payout chance is 97.0%, but with all possible chances mixed together from a series of respins and free spins, your maximum payout amount is a hefty 480,000 coins. Reel Rush has adjustable bets and coin values, which can be raised by adjusting the selector from the LEVEL and COIN VALUE selectors.
The LEVEL adjustment raises your bet level like so: if your LEVEL is 1, your bet is 50, or £0.50. If your LEVEL is set to 10, your bet will be 500, or £5.00.
The COIN VALUE setting can also be changed to raise your overall bet. If your COIN VALUE is set to 0.20, the maximum, then a LEVEL 1 setting will amount to your overall bet being £10.00. The maximum possible amount that you can bet per spin with both options set to maximum is £100.00.
This doesn't matter so much when playing for fun, but when playing with real money it is important to make sure you understand the bet at stake, as well as the possible payout from winning.
Wilds, Respins and Free Spins
NetEnt's Reel Rush offers 3 features that can boost your chances to win by drastic amounts. Wild symbols can appear on reels 2, 3, 4 and 5 on normal spins, as well as in free spins. They can substitute any symbol needed to win in the winways that are possible on that spin. Respins are won when any winning combination on the main table happens, and may continue to occur upto a maximum of 5 times, wherein the ways to win are increased each time. That being said, the maximum ways to win on a 5th level respin is 1,875.
Free Spins are granted only after a winning combination from a 5th level respin. When that winning combination has occured, you are granted 8 free spins that don't cost you any bet amounts, but still award payouts on wins based on your original bet level. After all free spins have taken place, you'll see a indicator that will display the total amount of coins won throughout the entire process, from the original spin that activated the respins, to the very last free spin.
Sights & Sounds
The artwork in Reel Rush is pleasing to the eyes, and has a definitive inspiration from the Super Mario Brothers games. The exact quality of the appearance, as well as the smoothness of the gameplay mechanics will rely heavily on the strength of your system, but should offer a visually pleasing experience for the vast majority of players. The sounds of Reel Rush range from a mellow, relaxing musical number which gets more and more upbeat as you win and receive respins, to sound effects from wins and spins that are reminiscent of the gaming days of old.
Comparisons: At a Glance
Reel Rush video slot is comparable to other NetEnt productions such as Starburst and Twin Spin, but differs in that it has its own unique theme, features, win table, winways, and payouts. While they share similarities, such as bet levels and coin values, they each have their own specific values and ultimately, lesser or greater payouts.
Reel Rush video slot Game Options
After having loaded the game up in your browser, you'll notice a message in the bottom right hand corner, which suggests that you can change the graphics options if you need to boost your performance with playing the game. This is actually done easily, even for novice computer users. Just click once on the icon in that bottom left corner that looks like a wrench, which is also a universal icon for settings or options, and click it once. That will open up a new window with several different options.
The Quick Spin option will enable or disable quick spins, which is useful for when you don't have as much time to invest in playing and waiting on normal spins. However, not all online casinos support this function.
The Ambient Sound option will disable or enable the musical arrangement that plays during the game. The Sound Effects option will disable or enable the games sound effects, and is mainly there for preference.
The Graphics Quality settings may offer you increased performance, should you need to use them.
If you have played with real money in the recent past, you can use the Game History option to view your last game history, including money used, lost, and won.
Reel Rush also uses a handy autoplay feature that will allow you to play up to 100 spins, or rounds, automatically and without your input. This is especially handy if you have little ones in the house to take care of, and can't afford to sit in front of your computer or laptop.