The Hook's Heroes video slot starts with a small intro video where you can see little kids who do a Peter Pan play. All the symbols on the slots are kids dressed up as Peter Pan characters, there is a kid dressed up as Tick-Tock the Crocodile, another one as Captain Hook and some other pirates.
Free Spins, Features, and Bonus Rounds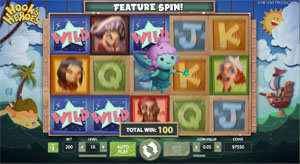 Hook's Heroes video slot has three main features: The Pirate Feature, the Mermaid Feature and the Fairy Feature. When you have two scatter-symbols –Tick-Tock the Crocodile is the Scatter-symbol– on the reels you will receive a free re-spin, with one active feature. In Hook's Heroes video slot a re-spin is called a feature spin. When you get three or more scatter symbols on the reels you will receive free spins, and you can decide which feature will be active during the free spins. Which feature you chose also determines how many free spins you will receive.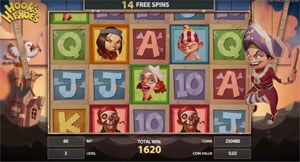 If you don't blink when you receive the Pirate Feature, you will see that the pirate boy kicks away the two signs with the win lines. This is because there are no win lines in the Pirate Feature. Your winnings depend on visible symbols, symbols do not have to be on a win line anymore. There are no Wild symbols on the reels when the Pirate Feature is active, which makes sense or else it would be too easy to make mega winnings when just one Wild would hit.
In the Mermaid Feature winnings will be multiplied by 2, with the exception when you make a winning combination using a wild symbol, because then your winnings are multiplied by 4.
When the Fairy Feature is active you will see a fairy — which must be Tinker Bell — and she will fly over the reels and place 2 to 5 wild symbols on random positions on the reels. This type of feature is also called 'Random Wilds'.
Personally, I like the Fairy Feature best — so far it has treated me very well. The best I got was 62.75 times my bet with only 7 Fairy Free Spins.
Hook's Heroes also has a Wild-Symbol, which can replace all other symbols except Scatter-symbols. The kid who is dressed up like Captain Hook functions as the Wild-symbol in Hook's Heroes, although there are no Wild-symbols on the reels when the Pirate Feature is active.
Peter Pan and Pirate Themed Slot Machines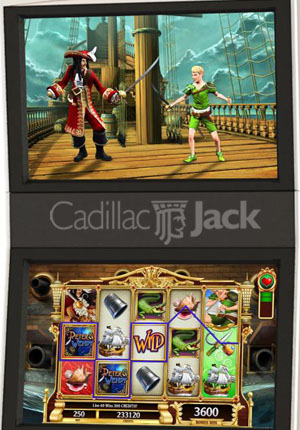 You will not find the name Peter Pan in this video slot, but it is pretty clear that the slot is based on J.M. Barrie's story of Peter Pan.
There are not a lot of video slots based on Peter Pan. The only two I can think of are two video slots made by Cadillac Jack who you can only find in land based casinos: the Peter & Wendy video slot and Hook's Revenge video slot. Both Cadillac Jack video slots are based on the original story, and the symbols and characters used in those video slots are just like in the movies.
There are maybe no other online Peter Pan slot machines, but the pirate theme has been used a lot more often. NetEnt also has a Ghost Pirates, a video slot which approach the pirate theme in a more mature way, and feels more like the Pirates in the Caribbean. Other pirate online slots include Playtech's Captain's Treasure and the Pirate Radio Slot from Realistic Games, which are both just average slots.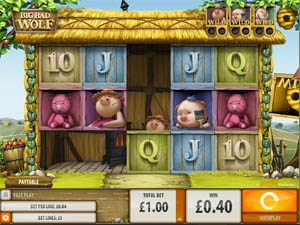 It maybe sounds weird, but the first video slot I had to think of when I saw Hook's Heroes was the Big Bad Wolf video slot from Quickspin. The topic is maybe unrelated –although both themes are essential children stories– I am pretty sure that if you like Hook's Heroes theme and visuals, you will love The Big Bad Wolf video slot.
Hook's Heroes Video Slot Details
Software Provider: NetEnt
Stakes: min.: £0.20 ; max. £200
Win lines: 20
Return to Player: 96.82%
House Edge: 3.18%
Features: Free Spins, Wild Symbols, Scatter Symbols
Hook's Heroes Slot Demo Video
If you want to see al the features of the Hook's Heroes video slot you can of course play the video slot for free, but it is easier –although not as exciting– to just watch the short video slip of the Hook's Heroes slot machine.
Play Hook's Heroes Video Slot on Your Mobile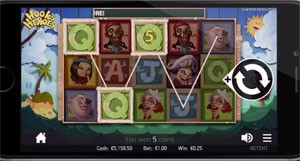 A lot of casino players like to play games when they are on the move, and luckily for them the Hook's Heroes video slot is also available for iOS and Android. So no matter if you have an Samsung Galaxy or an iPad you can play the video slot where ever you go — as long as you have an active internet connection.
The buttons are positioned slightly different on the Hook's Heroes Touch version of the game, so that it is more intuitive to play on a touch screen. The rest of the game is exactly the same as when you play the slot machine on your computer.
The Verdict
Hook's Heroes is probably aiming for a female audience, so no surprise that the theme and the graphics don't thrill me (a 30-year-old male) that much. The video slot looks in my opinion too childish, although it has some nice features.
It's a pity that the slot machine does not have any bonus games except for the free spin rounds.
My ex-girlfriend played Hook's Heroes video slot quite often, but personally I like other NetEnt slots like Ghost Pirates or Starburst a lot better. As said, it could be that Hook's Heroes shows the feminine side of NetEnt 😉
You can play this --and other NetEnt video slots-- with real money at one of the following online casinos:
Unibet
,
Vera&John
, and
Royal Panda
.