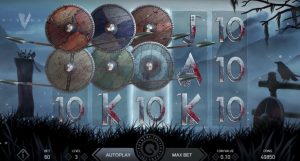 The worldwide success of the HBO TV series has made it possible that now we can all enjoy this amazing video slot featuring the world's favourite raiders. Featuring star characters from the show, such as Ragnar, Lagertha and Bjorn Lothbrok, Vikings Video Slot from NetEnt has immersive footage and images inspired by the historical drama. If you haven't yet seen Vikings, as some of the slot players in the Big Win Videos, do yourself a favor and turn your TV/laptop on because you are missing out!
As a huge fan of the TV series, I pretty much played the slot non-stop for days. Desperately hoping that Bjorn will appear giving me the luck need it to get a big win! As the gods were clearly not with me in this conquest, I decided to watch some big win videos on Youtube to see if anyone had the gods on their side and did better than me.
Holly S**t, this is printing!!!
Apart from two exciting features – the Shield Wall and Hotspot – Vikings has a free spins round: the Raid Spins. To activate the 7 free spins, 3 scatter symbols need to fall on reels 3, 4 and 5.
Only 16 seconds into the video, Casino Daddy activated the Raid Spins. A Viking ship then transported to a bigger and better slot reel. This slot had 7 reels and 5 rows. With only 1 out of the 7 free raid spins left, Ragnar's face appears in more than half of the slot reels, an eagle descends into the screen and the coins start to go up and up… big win! mega win! super mega win! Holly S**t, this is printing!!! nearly screams the player, winning a grand total of 1351 euros!
Shield Wall feature gives a Super Mega Win!
Compare to the majority of the other Vikings Slot Big Win Videos, this is one of the less seen. It doesn't even have 1,000 views! So of course, I didn't think it would be any good. Boy, I was wrong!
Our player receives 7 Raid Spins and only at the second spins he activates the Shield Wall feature. This feature can be triggered at random both during the base game and the Raid Spins feature and gives a massive payout. This time our player got Super Mega Win of 31168 coins, winning over €300. Not bad for less than 2 minutes of playing!
Mega Win with the help of Lagertha
Miikapekka activates the Raid Spins feature and sails in the Viking ship to his 7 free raid spins. Only with the second free spin, he manages to activate the Shield Wall feature! Now, as a fan of the show, this feature is my favourite. There is nothing better than watching Lagertha -the best character I might add- using her shield. The Shield Wall feature gives Miikapekka a Mega Win of 4840 coins, which is not much, but he still has 6 Raid Spins left. Two spins later, with the help of the amazing Lagertha, he activates the Hotspots feature and we have more than 40 seconds of coins dropping, giving a Super Mega Win with a total of 10800 coins.
With only one free spin left, Lagertha does it again and the Hotspots feature is once more activated -no wonder she is my favourite character! She is the best! This time around Miikapekka gets a Mega Win of 4800 coins, giving him a grand total of 20720 coins, which is a grand win of €1,036.
It's raining coins!
I must say that I prefer big win videos in where the player is commenting the game. If there is more than one person talking, even better! I like to know the player's reaction and hear their happiness and/or disappointment. So when the player activates the Hotspots feature with the help of Bjorn I knew this video was going to become one of my favourites. The coins start to drop and the player and his friend keep trying to calculate the winning but as the numbers keep going up and up this is becoming futile. It's raining coins! one of them concludes as they win €1,500.
Un momento with the Free Spins!
When you see a video that has been watched more than 10,000 times, you know that there must be something special about it. At first, I thought it was Jarttu84's charming orange background. After hearing him dropping some Spanish I realised that there was more to him that some background!
Jarttu84 activates the Raid Spins feature and he impressed me with his Spanish speaking skills: un momento with the Free Spins, he says, and it clearly was, as it took him more than a minute to start using them! He should have said, un gran momento instead to warn us about the wait. Well, at least the wait was worth. He managed to activate the Hotspots feature with only four free spins left and got a Super Mega Win of 19440 coins, only to get a Mega Win of 5760 coins later. Overall Jarttu84 won 31056 coins, with a bet of €24.00, he won a whopping €6,211.20!
If you feel like the gods might be with you, have a go at playing this video slot! As they were not with me, I might stick with watching the TV series and big win videos for the time being!
Want more?
If you are like me and can't get enough of big win videos, check out the Gonzo's Quest big win videos and the Twin Spin big win videos.